"Loy Krathong Festival,"  the most amazing Thailand Festival, is celebrated in every area in Thailand. that has been coming to the market for hundreds of years.  
On that night, Thai people go to the riverfront with incense sticks and Krathong made from banana leaves. Krathong is a kind of float made from banana leaves and decorated with lucky flowers. Then make a wish, pray, and let the Krathong float down the river. 
The Loi Krathong festival. People worship the goddess of water "Phra Mae Ganga", in order to implore Phra Mae Ganga to allow bad things to pass through the water. and ask for forgiveness that we have used water all year round.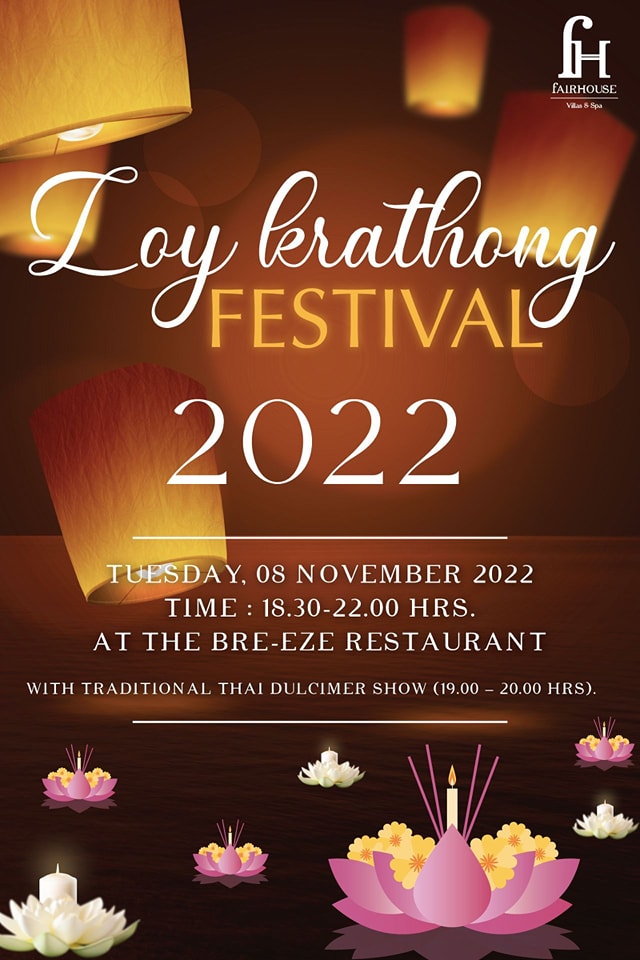 This festival is a romantic evening for couples. Many couples will go out to do activities together tonight. Hundreds of candlelights will illuminate the water's surface at night as people come out to float Krathong, creating a stunning scene. 
Loi Krathong is also celebrated on Koh Samui. Specifically, we recommend you go to Maenam Beach. The most beautiful sunset beach in Koh Samui. and a venue for hosting a very lively night.
We invite everyone to join the Loi Krathong Festival. The amazing Thailand festival. And join us at Maenam Beach. with luxurious accommodation with convenience at Fair House Villa.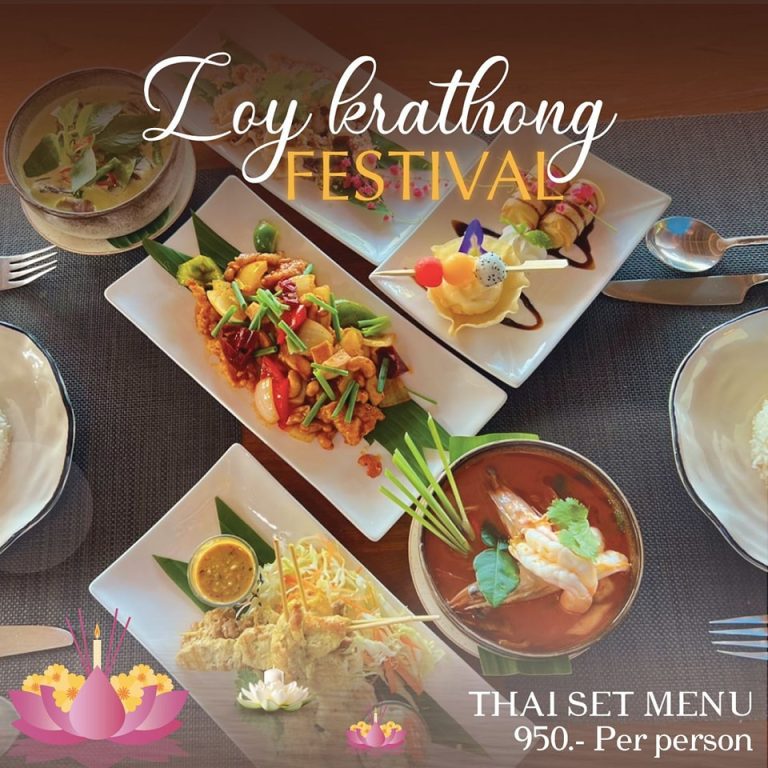 On November 8, 2022, join us at the Fair House Villas & Spa for Loy Krathong (Festival of Lights) for an amazing romantic encounter.
LOY KRATHONG AT FAIR HOUSE VILLAS & SPA
Join us on Tuesday, November 8th for a variety of Thai set menu,dulcimer show and you can make your own lotus Krathong.

1,900 THB per 2 persons only!
Advance reservations required.
Float away your troubles under the full moon with lotus-shaped krathongs and delicious festive menus featuring Thai classics with us!
Tuesday 8 November 2022
Time 6:00 – 10:00 pm at Bre-Eez Restaurant
.
For reservation, Please contact :
: booking@fairhousevillas.com
: +66 (0)77-429-000
:
https://m.me/fairhousevillas
:
https://www.fairhousevillas.com/
Line ID : @fairhousevillas
Instagram : @fairhousevillas
.